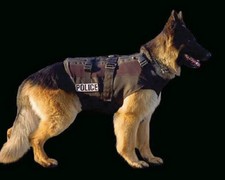 Your K-9 often works in very difficult conditions and often exposed to the effects of firearms. Given this fact and given that he does not know the fear and recognition of situations where his/its life is threatened, it must be protected.
Specially designed vest allows you to tailor it to your dog, regardless of its size. The vest is made of high quality materials and strong construction allowing the dog to safely perform its tasks in a way that it worked without a vest. Vests for dogs are available in two sizes: small and large.
They are made in the levels of protection: IIA, II and IIIA, the NIJ standard.